I Have Faith In God, and He Has Faith in Me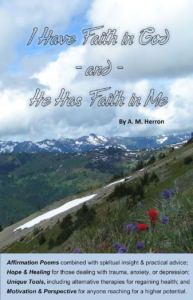 First edition paperback now available!
NOTE: Kindle eBook now available on
Amazon
.
ATTENTION: Would you like to make a significant difference in the life of someone dealing with trauma – right now – by gifting a copy of the book to someone in a shelter, halfway house, detention/corrections facility, or an addiction treatment facility or program? We are working on partnerships with several community organizations that fit this description, and will list the successful book placement locations as they happen.
Here's how you can help
.
(If you would like to buy books in bulk for donation, please email us at HeHasFaithInMe@gmail.com to work out the details.)
"I have faith in God and He has faith in me." It began as just a simple affirmation, but one that played a pivotal role in helping the author cling to hope during a very dark and difficult time. Through the use of this and other inspired daily affirmations, prayer, spiritual studies, and a gradual discovery of heaven-sent tools and therapies, the trauma that threatened to overtake her eventually subsided and gave way to newfound personal growth and more joyful daily living.
Now, as a book, I Have Faith in God and He Has Faith in Me is the fulfillment of a promise to God to use the lessons learned during that journey to help others. The most compelling of those lessons is that living in true reciprocity of faith has limitless power to bring hope and healing. It can help anyone who is struggling or suffering to overcome their challenges and find the strength and wisdom they need to become the person they're meant to be.
True complete healing is seldom found by addressing just one aspect of a person's health… because spiritual, emotional, mental, and physical well-being are all intrinsically connected. Neglect, ignorance, or indifference toward any of those four aspects of overall health will always negatively impact the others. Inside these pages you will learn to maximize your healing and optimize your quality of life by looking at new ways you can build a more comprehensive & harmonious approach toward self-care.
Readers will find life-changing enlightenment in forty original affirmation poems based on the author's interpretation of five phases of healing and rising above trauma: SAFETY, LOVE, CONFIDENCE, MANIFESTING, and ENVISIONING.
SAFETY – With God's help, developing our abilities to consistently create a feeling of being safe… building the sense of security that provides the foundations needed for healing
LOVE – Learning to see, experience, and feel worthy of God's love for us… so that we can then look at ourselves and others through a Godly lens of love, compassion, and acceptance
CONFIDENCE – Moving forward purposefully with a strong belief in our God-given potential, supported by His power to provide assistance and His desire to see us to succeed
MANIFESTING – Using intention to attract and increase specific blessings in our lives, while aligning our learning and growth with God's will and His specific plans for each of us
ENVISIONING – Taking the law of attraction to the next level by visualizing the "bigger picture," utilizing a growth mindset and eternal perspective to become our highest selves
"I was mesmerized by the writing (It is fantastic!), and more importantly, by the message of love being shared with everyone… the author is an inspiration. The messages aren't just for those suffering from trauma, but for anyone who is searching for more meaning, or just better health. I can see this book going viral and making a difference in thousands of people's lives." – Mary Kay Voss, co-author of Totems of September, National Indie Excellence Award finalist
Additional information includes:
Taking charge of your own emotional healing – paying attention, prescription drugs and alternatives, baggage and triggers, alternative therapies, toxic people and relationships, and 50 ideas for reducing stress as a means of helping to heal trauma
Taking charge of your own physical healing – holistic health and alternative medicine, nutrition, avoiding toxins, choosing the best lighting, and 30 strategies for better sleep
Audiobook release targeted for January 2020. Those who purchase the paperback are now also able – at no additional cost – to download a portion of the audio book consisting of just the 40 affirmation poems, deep breathing exercises, and some calming sounds of nature. Check back soon for updates.
Follow us on Facebook at www.facebook.com/Youngatheartbooks
For more information, contact us at HeHasFaithInMe@gmail.com
© 2019 by Young@Heart, LLC, all rights reserved